Welcome to Michigan Festival of Chariots
On Sunday, August 15th 2021 ISKCON Detroit will present their 36th annual Festival of Chariots (RathYatra) parade down the major streets of Novi. The procession begins promptly at 11:00 am from the Novi Civic Center. Following the 3 mile parade, a grand celebration awaits the crowd, including an exhibition showcasing India´s spirituality and culture.
The festival site will feature 20-plus tents with various forms of entertainment, a FREE lunch, dancing, live music, shopping, henna, Vedic culture and arts, and many more kid activities. Visitors can expect an event filled with colorful floats, traditional costumes, Hindu rituals, unique music, and dramas. The whole family will enjoy exploring the unique cultural, educational displays and exhibitions, cooking demonstrations, as well as a COMPLIMENTARY feast till 3pm, revealing the spiritual heart of India.
Replications of this festival take place all over the world, including in London, New York City, Los Angeles and Toronto . Over one million people participate in this thousands year-old Indian celebration, so don't miss out on the FREE opportunity to learn about the fascinating culture of India . Everyone is invited to bring their family and friends to experience this extraordinary event and commemorate in an ancient tradition. All are welcome and admission is FREE.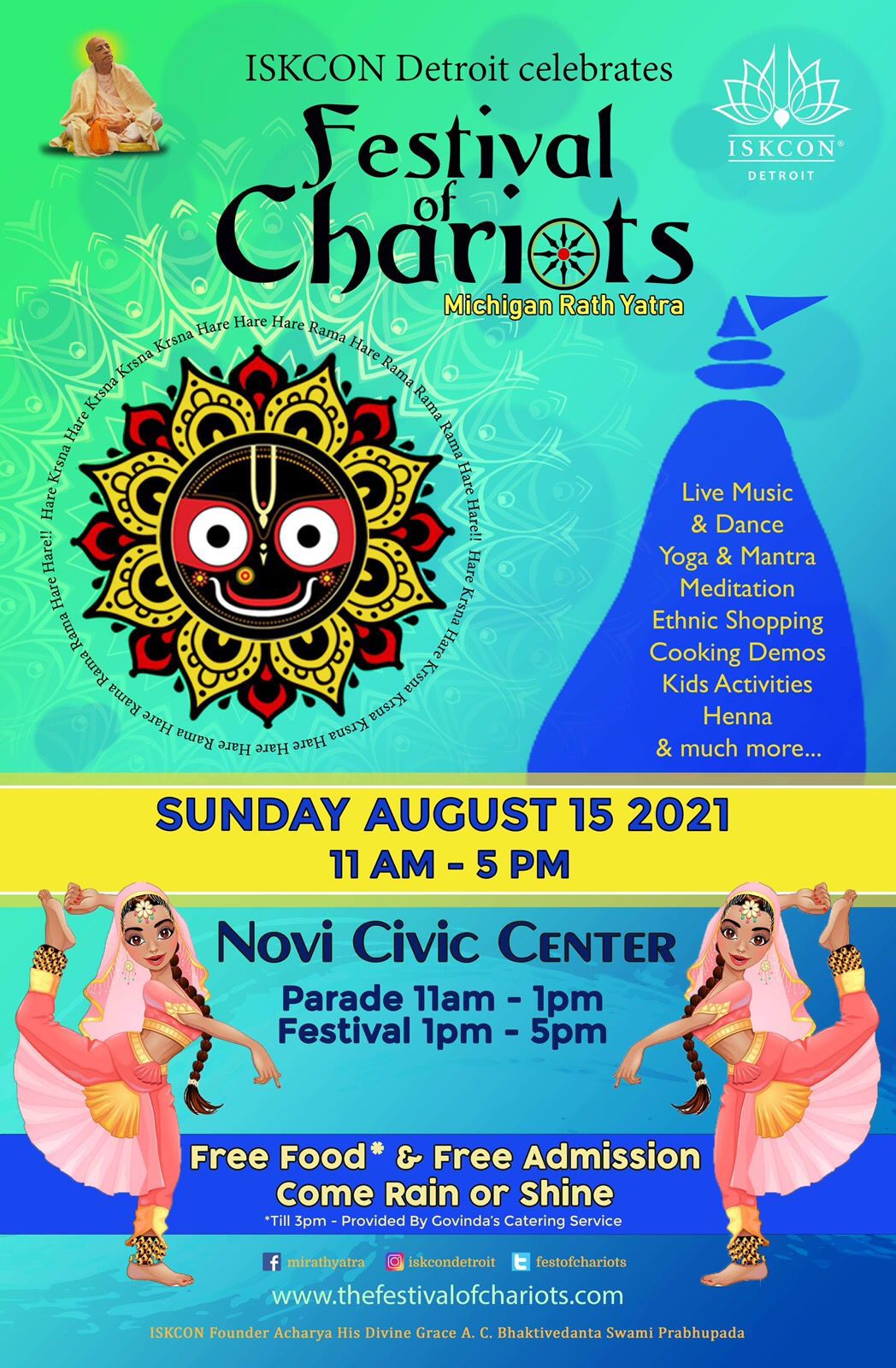 On the behalf of ISKCON Detroit we humbly request you to accept our invitation to kindly attend Lord Jagannath's Rathyatra with your family...
More
The best way to express your Spirit of Service is to join one of our many activities today! With a variety of opportunities available to serve...
More
Upcoming Events
Maha Mantra
Hare Krishna Hare Krishna Krishna Krishna Hare Hare!
Hare Rama Hare Rama Rama Rama Hare Hare!
vāmanaṁ dṛṣṭvā punar janma na vidyate
Taking part in Rath Yatra means a step forward for our self-realization.
Simply by seeing the Lord on the chariot, one makes advancement for stopping the repetition of birth and death.
– A.C. Bhaktivedanta Swami Prabhupada
Audio Library
Purport on Hare Krishna (English version)